The mixed berry tart is a delicious and easy-to-make dessert that is sure to please everyone. This recipe combines the sweet and juicy flavors of strawberries, blueberries, raspberries, and blackberries into one amazing dish. The tart itself is made with a buttery shortbread crust that adds a wonderful crunch to the dish. The topping is a combination of cream cheese, sugar, and vanilla extract which creates a perfectly sweet yet still-light flavor. To finish off the dessert, it's topped with more fresh berries for an added burst of flavor!
To get started on this delightful treat, you'll need to make the shortbread crust first. Begin by combining the flour, sugar, and salt in a large bowl before adding in cubed cold butter and using your hands or a pastry cutter to mix everything together until it forms small crumbs. Then add in ice cold water while continuing to mix until all of the ingredients are fully combined together. Grease up your baking pan before pressing down this dough evenly across it before placing it into the oven at 350буF for about 20 minutes until golden brown. Once finished take it out from the oven and let cool completely before starting on your filling mixture!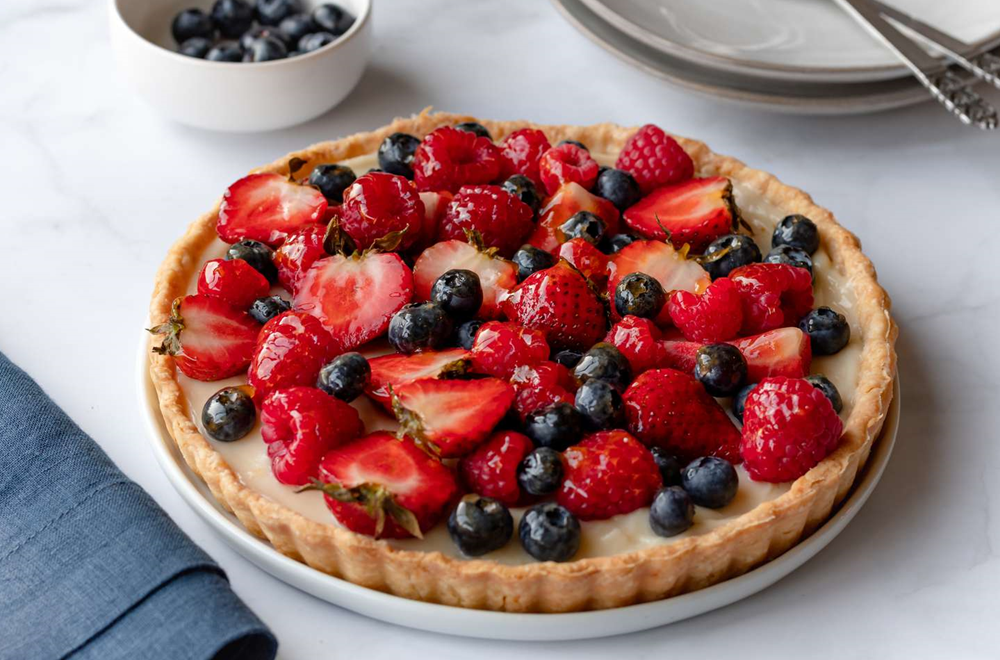 In another mixing bowl combine softened cream cheese with powdered sugar along with some pure vanilla extract for even more sweetness before spreading this creamy mixture over top of your cooled shortbread crust layer. Now comes the time for our favorite part: adding all those delicious berries onto our tart! Start off by slicing fresh strawberries then rinse off each raspberry one by one before adding them both onto our tart along with some freshly picked blueberries & blackberries as well!
Once everything has been assembled together simply place it back into the oven at 375буF Cooking time varies depending on how ripe your berries were but usually takes around 20 minutes or so until golden brown on top & bubbly around the edges you can also brush some melted butter over the top if desired. When finished take it out & allow it to cool completely before serving enjoy!!
The mixed berry tart is truly an amazing treat that everyone will love; its combination of sweet yet light flavors makes it perfect for any occasion no matter what time of year it may be! Whether you're hosting an outdoor BBQ or having friends over for dinner this dessert will definitely impress them all thanks to its unique yet delicious taste profile. Give this recipe a try today & see just how easy and tasty homemade desserts can be!